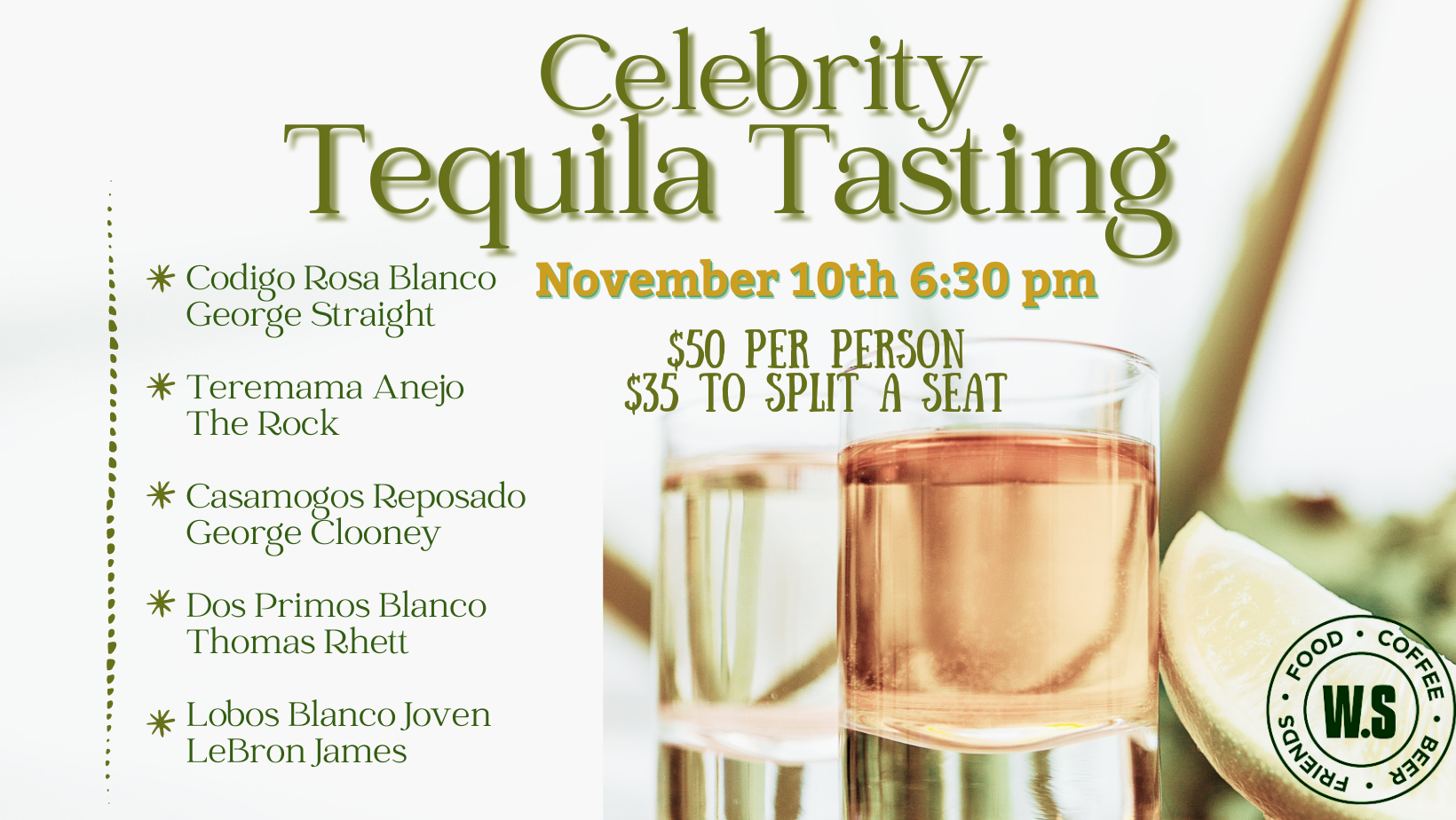 Celebrity Tequila Tasting
Thursday November 10th 6:30 pm
(limited tickets available, $2.50 service fee applied at checkout)
Come enjoy 5 tequilas made by celebrities in 1 oz pours. 5 mini cocktails made to compliment each tequila.
Learn how to "Kiss the tequila", taste, rate and sip tequila.
Enjoy a representative teaching the history, and how each tequila is specially crafted.
Each guest will receive a tasting place may and cards with each tequilas tasting notes, aroma, and finish to take home.
Raffles prizes will be given as well.
2 food pairings for each tequila
Large charcuterie tray with savory and sweet nibbles
Breads, crackers, chips and more will also be provided. (You shouldn't be hungry when you leave!)
Feel free to bring a cigar to enjoy on the patio after the tasting weather permitting.
Additional tequila will be available ala carte as well.
Our Celebrity Tequila Selections
Codigo Rosa Blanco
Celebrity- George Strait, Mike Shanahan, Brett Hull
Teremana Anejo
Celebrity- Dwayne Johnson The Rock
Casamigos Reposado
Celebrity- George Clooney
Dos Primos Blanco
Celebrity- Thomas Rhett
Lobos Blanco Joven
Celebrity- LeBron James
Pairing Details
Codigo Rosa Blanco Tequila
Sailors Delight Cocktail with strawberry sorbet, pineapple juice and splash of grenadine (similar to tequila sunrise)
Paired with salt and vinegar popcorn
& beef with chimichuri
Teremana Anejo Tequila
Mexico City (tequila Manhattan) with orange bitters, and dark tart cherries.
Paired with Dark chocolate chip banana bread & vanila ice cream with smoked sea salt caramel sauce
Smoked chicken
Casamigo Reposado Tequila
Juan Daly (tequila Arnold Palmer) mango juice, fresh lemonade, fresh tea
Paired with charred roasted veggies, with a sweet chili sauce for dipping
Pancake with pure maple syrup
Dos Primos Blanco tequila
RanchWater Cocktail, topco Chico water with splash of fresh grapefruit and simple syrup
Paired fresh homemade tortilla chips and a spicy salsa
& lemon meringue pie
Lobos Blanco (Joven) Tequila
Maple Apple Margarita Cocktail
Paired with house made black pepper burger and tajin fries
Also on the tables
Grapes, apples, orange slices, cinnamon, chips and salsa, corn muffins, cheese olives, jams, coconut, pineapple, chocolates, cookies, crackers, flatbreads, citrus salad, strawberry poppy seed quacamole, churros and more