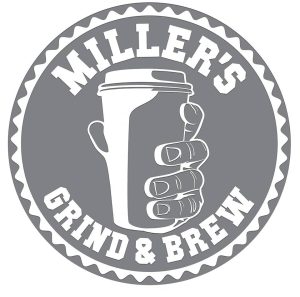 About Miller's Grind & Brew Coffee
As far as I can remember, everyone in my family has had a passion for coffee, From my Great Grandfather to my Daughter, the passion for coffee has spanned over a 100 years. The last 15 years I have gathered the best blends and flavors, that as a family, we have enjoyed! It was my mother, who told me, to share our family's passion with the rest of the world, and my father who inspired me to follow my DREAMS. Miller's Grind & Brew imports beans from all over the world and only the finest teas. From coffee farms in Kenya to Southeast Asia and South America; Miller's Grind & Brew looks forward to serving the Wright Dunbar community!
Recommended Dish:
Banned Latte – a Bourbon Barrel Aged Maple Syrup Latte. Topped with Whipped Cream and Caramel Drizzle.